Wi-Fi in each car
#Additional options for car rental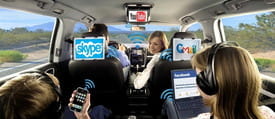 Wi-Fi in each car
We perfectly understand that for many modern motorists the availability of mobile Internet today is mandatory. Let us know if you need a connection, and we will take care of equipping your car with a high-speed Wi-Fi router.
Specially for you, we have selected a reliable, compact and powerful gadget that allows you to go online from anywhere from any device (or from multiple devices at the same time).
On the road, using a Wi-Fi router, you and your passengers can easily solve any business tasks from a distance, view e-mail and messages in social networks, and have fun. The presence of an access point is also convenient because at any time you can view the map or learn about the situation on the roads.
To understand the operation of the router, it will take a few minutes – Narscars offers a device that is most convenient and easy to configure.