Suzuki
Offer from 11 Dec to 14 Dec
Use the form above to search for a car for your dates
Suzuki Vitaraor similar | SUV
| | |
| --- | --- |
| 1-3 days | $56 $40 / per day |
| 4-9 days | $51 $40 / per day |
| 10-25 days | $46 $40 / per day |
| 26+ days | $36 $36 / per day |
Suzuki S-Crossor similar | SUV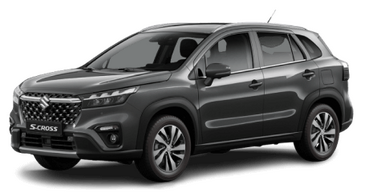 | | |
| --- | --- |
| 1-3 days | $65 / per day |
| 4-9 days | $55 / per day |
| 10-25 days | $50 / per day |
| 26+ days | $40 / per day |
How to book a car Suzuki ?
Our website offers online car bookings including Suzuki. To rent a car on our website, you need to use the order form and indicate the dates and place of rental.
The cost of renting Suzuki on our website may vary depending on many factors, such as the date and time of the rental, the duration of the rental, availability of special offers, etc. Therefore, to find out the actual cost of renting Suzuki on the site, we recommend using the order form.
Our company offers a wide range of Suzuki car models for rent. Among them, the most popular models will definitely be in our park.
There are several popular and high quality Suzuki car models in our fleet. Each of these models has its own advantages and characteristics, so we recommend choosing the machine that best suits your individual needs and preferences.
Depends on many factors, the Suzuki that the client chooses has many options. Typically, the cost of renting a car includes basic options such as car insurance, mileage limit, taxes and fees. However, additional options may be available such as a navigation system, additional driver, child seat, etc.
We have a number of additional services that can be provided to you when renting any car, including Suzuki. These may vary depending on the needs of the client and local availability. Some of our additional services may include an additional driver, navigation system, child seat, Wi-Fi hotspot, full theft protection, additional insurance and more.
Inexpensive car rental "Suzuki" in any major city of Ukraine
A simple and inexpensive Suzuki rental at NarsCars regional offices is a convenient service for those who need a car for personal needs, business trips or travel. It allows you to save money due to low prices for Suzuki rental and move freely throughout Ukraine driving a comfortable modern car.
To rent a Suzuki in Kiev or another city where there is a NarsCars branch, you must meet certain conditions:
Car rental services are provided to persons over the age of 23 who have at least 2 years of driving experience.
To rent a car, you must present a passport, TIN and a driver's license of Ukrainian or international standard.
Otherwise, there are no restrictions, except for those provided by the tariff you have chosen. By renting a Suzuki car, you can use the car for as long as you need, paying for a daily rental at a favorable rate. It provides for a decrease in the rental price as the rental period increases. Rent a car for a long time - pay less in terms of one day of using the car.
Representative offices of NarsCars operate in Kiev, Kharkov, Odessa, Dnipro and Lvov. Addresses of car rental points can be found on the website or from our managers.