What gift is suitable for a person who is fond of cars
#Interesting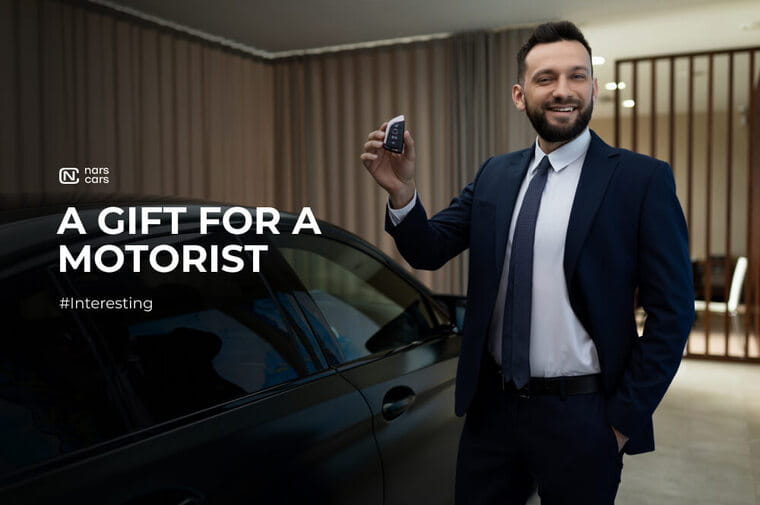 What gift is suitable for a person who is fond of cars
Gifts for motorists are easy to choose for those who themselves are fans of "iron horses". Usually, they choose some kind of auto product or accessory that would be useful in their garage. But what about those who are on "you" with cars or what present to present to someone who already has everything necessary for his car? Narscars experts give several recommendations on what to give a car enthusiast and where this present can be purchased.
Reason for a gift
The amount and size of the donated car accessory primarily depend on the degree of importance of the event for which the purchase is planned. If the occasion is insignificant or you just want to make a nice sign of attention, you can give some small accessories for a car enthusiast like an air freshener with an original smell or a rug with a funny inscription. If a grand event is planned, then it is worth looking for something more expensive and valuable that will serve the motorist for more than one year, or find a gadget that the hero of the occasion has always dreamed of, but he would never have bought it himself. Most often, gifts are given in honor of the following holidays:
Day of the motorist;
Trucker Day;
obtaining a driver's license;
buying a new car;
Day of Defenders and Defenders of Ukraine, etc.
Gifts for a car can be given to a car enthusiast on his birthday, New Year's Eve, Christmas, professional holiday or just to cheer up.
Useful gifts
When choosing a present, you always want it to be not just another dust collector, but a useful accessory for the hero of the occasion. We list the best gifts for car enthusiasts that will not gather dust in the garage, but will be regularly used:
Car vacuum cleaner. This is the best gift you can give to those car owners who have children and pets. The cost of such a presentation starts from 500 UAH.
Compressor. Any motorist knows that it is very important to regularly check tire pressure. So that you don't have to look for gas stations with free pumping or don't waste energy on pumping the wheel manually, give a compressor as a gift. Its price starts from 400 UAH.
Set of tools. If you know that the hero of the occasion likes to turn not only the "steering wheel", but also the nuts, give him a universal set of auto repair tools. This suitcase should be in every trunk. The price starts from 1500 UAH.
Battery charger. Motorists will be especially pleased with this gift before the onset of cold weather. There is a large selection of different chargers, the cost of which starts from 500 UAH.
If you want to give something modest but useful, choose something from car chemicals or car cosmetics. This is always a necessary and quickly consumed present.
Presents for men


The choice of a gift depends on what kind of man it is intended for:
for a loved one. An excellent gift will be expensive and useful gadgets for motorists - a car vacuum cleaner, a navigator, a DVR, a compressor;
for a friend, a distant relative. You can give a small and relatively inexpensive car souvenir - a fire extinguisher, first aid kit, tow rope, scraper or organizer for easy transportation of luggage;
for a trucker. An interesting present will be a braid for the steering wheel or an electric blanket.
The most difficult thing is to choose gifts for owners of sports cars. Accessories for such machines are sold in a limited number of stores and are not always affordable. They can be given the opportunity to drive the car of their dreams. To do this, you can rent a car in Odessa and ride with the hero of the occasion along the embankment.
Gifts for car lady


Driver girls, like men, need to be given useful car accessories. If the girl is unfamiliar to you or the occasion is not too grandiose, you can give cute trinkets like a car charger, a custom steering wheel cover, a back massager or an original keychain for car keys. For a closer car lady, you can purchase a DVR, a navigator or a vacuum cleaner in a car - any car enthusiast will be happy with such gifts.
If a girl is a novice motorist, then parking sensors and a rear-view camera will be a useful gift for her. Those who like to "sort out" their car on their own - and there are such women among motorists - will be happy to receive a universal tool kit as a gift. If the hero of the occasion loves cleanliness and order, then she will be delighted with special car cosmetics or a certificate for visiting a car wash.



You need to buy gifts for a motorist only in trusted stores. These should be high-quality and reliable accessories, and not Chinese consumer goods that will break on the first use. If you are not sure that you can choose a present yourself, give a motorist positive emotions by renting a car that he has never driven, but always dreamed of. Such a gift will forever remain in his memory!