How to save on car rental in Ukraine
#Interesting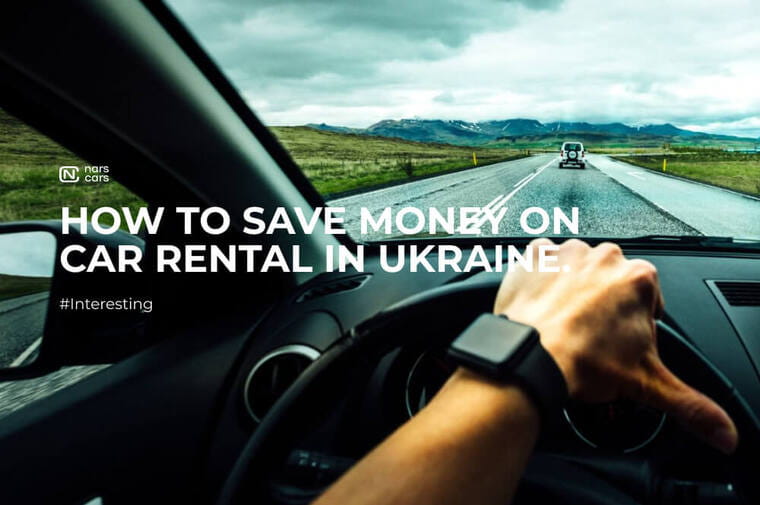 How to save on car rental in Ukraine
Car rental is a very convenient and popular service that allows you to travel in comfort, go to meetings in a presentable car and simply be independent from the whims of public transport. In modern realities, every sane person is looking for ways to save money without compromising their own comfort and safety. We invite you to familiarize yourself with a number of useful tips on how you can rent a car in Ukraine, save money and get a lot of pleasure from your trip.
TOP 10 life hacks that will help you save on car rental
Book in advance. The first advantage of this solution is that you can choose and take over exactly the model that you need, and with exactly the characteristics that you need. The second advantage of early booking is that many car rentals provide additional discounts on most models.

Take a car for a long time. Long-term car rental allows you to save money if you use the vehicle for a month or more. The rate for rentals of 1-3 days is significantly higher than when signing an agreement for a period of several weeks or months. Some "enterprising" customers try to deceive car rental companies by booking a car for a month to get an attractive price, and then want to return it a few days later. In most cases, such manipulations can result in a fine from the salon.

Think carefully about your route. The standard daily mileage limit is 300 km. If you are planning long trips, rent a car with unlimited mileage, otherwise you will be fined for going over the limit. You also need to know exactly and indicate in the contract the point of return of the car. If you return it to another place that was not specified in the terms of the contract, you also risk being subject to penalties. It is much more profitable to pick up and return a car directly to the car rental; you will have to pay extra for delivering the car to the airport, train station or to a specific address.

Choose the right model. Car rentals offer a wide range of cars of any class and with any technical characteristics. Choose a machine that will be optimal for achieving the purposes of its use. For a trip outside the city, choose an SUV, for business meetings - business class, for regular trips around the city - an economy option. It is better to rent spacious cars for large companies or for transporting large luggage. If you are traveling alone, there is no need to overpay for size and fuel, which larger cars consume much more.

Choose a manual transmission. It is more profitable to rent manual cars than vehicles with an automatic transmission. But in this case, the savings should be reasonable. If the driver has little experience in driving with a manual transmission, is poorly oriented on the terrain and feels unsure in busy city traffic, then it is better not to save money, but to choose an easier-to-drive option with an automatic transmission.

Monitor promotions and discounts from car rental companies. Some companies regularly offer promotions like "hotel+car" or "airplane+car". If you are in the city on business and still plan to rent a hotel room, you can save a lot of money on such promotional offers.

Return the car in the same condition as you received it. When receiving the car at your disposal, be sure to inspect it and be sure to mention all existing scratches, abrasions and malfunctions in the acceptance certificate. In this case, the car rental company will not charge you with any damages. In addition, be sure to return the vehicle with a full tank of fuel and in a clean condition. If this is not done, the car rental company will deduct a certain amount for washing and refueling, but not at the gas station and car wash rates, but at its own rates, which are much higher.

Order only those additional services that you really cannot do without on the road. If you are traveling with children, be sure to order a car with child seats. You can choose a car rental that already includes this service in the price. Some car rental companies charge a fee for GPS navigators, but instead of renting this device, you can download a free program to your phone. This will save up to 10-15 USD. to the knocks. If you are planning a long trip, then it is better to indicate another driver in the contract. This may increase the rental cost, but such expenses are acceptable when it comes to the safety of the driver and his passengers.

Check your insurance details. Be sure to read the conditions under which the car is insured. Learn what your insurance will cover and what you'll have to pay for yourself. In some car rentals, damage to mirrors and glass is not covered by insurance, and must be paid for by the renter himself. You also need to clarify the size of the franchise.

Leave a deposit. Not all car rental companies have a tariff for renting a car without a deposit, and it is significantly higher than a rental with a deposit. The deposit amount is blocked on the card or charged in cash, but these funds are returned upon expiration of the contract if the tenant did not damage the car, did not violate traffic rules and returned the vehicle fueled, clean and to a predetermined place.
As you can see, saving on the car rental service is quite possible even without compromising your comfort. Use these tips and travel by rented transport profitably and with pleasure.