Interesting facts about houses on wheels
#Interesting
Interesting facts about houses on wheels
A house on wheels is one of the most brilliant inventions of mankind. Its owner can leave the place at any time and go on a trip, without thinking about where he will live and spend the night. He already takes everything necessary for a comfortable rest with him to the motorhome. The first mobile home was developed back in 1880, but with the development of the automobile industry, the most diverse types of mobile homes began to appear. In this article, the company's experts Narscars will tell you interesting facts about houses on wheels and introduce you to the most unusual of them.
The most interesting houses on wheels
Despite the ancient history of mobile homes, the peak of their popularity came in the 1930s. In America and Europe then, a whole movement called "caravaning" arose. People bought a motor home not just to travel, but to live in it, moving from place to place like nomads. With the development of the automotive industry and the growing popularity of motorhomes, manufacturers began to expand their assortment, and in addition to classic models, exclusive and unusual motorhomes began to appear. It is precisely such interesting constructions that we will consider in more detail below.
Fairytale castle
The owners of the magical motorhome in the shape of a castle are the spouses of Sizena. The engineer husband made a fairy-tale palace out of an ordinary British Bedford truck for his aerial circus gymnast wife Yola. His wife's constant busyness on tour and her nomadic lifestyle as a circus artist prompted him to implement this idea. With the help of the motorhome, Justin wanted to make their family life complete and not deprived of home comfort. His creation has the appearance of a lock only in an unfolded form. During movement, this is an ordinary van to which towers are attached at the back.
In order for the castle to have electricity, Justin installed solar panels on the roof. The fireplace provides warmth in the house. The water supply is constantly replenished by collecting rainwater in a tank under the car. The castle has a living room, a kitchen with a dining room, a bedroom, a toilet, a shower room and even a bath. The size of the house is ideal for a family of 3 people. All free spaces, corners and niches have been adapted by the owner to store things.


Rural inn
Pub culture is very popular in Ireland. Knowing this, John Walsh decided to convert an old motorhome into a pub on wheels. He spent 4 months and 20 thousand. euros to realize your dream. As a result, he got a nice house with a slate roof, a fireplace and a small chimney. Its length is a little more than 4 m, and its width is 2 m. In such a pub on wheels, up to 10 drinkers can relax at the same time. Inside, the interior of the house reminds of the beginning of the 20th century. Aged pine and Irish oak were used for its decoration.
The drinking establishment on wheels travels throughout Ireland. Ego can be seen at almost all holidays, festivals and parties. Inside there is everything for drunken fun - glasses, glasses, refrigerators, a multimedia system and many other attributes of this holiday. Anyone can rent a carport for 750 euros per day. On weekends, the rental price doubles.
The success of the first pub on wheels inspired Walsh so much that he founded Shebeen, a company that converts vans into pubs on wheels. The cost of such a transformation is more than 40 thousand. euro.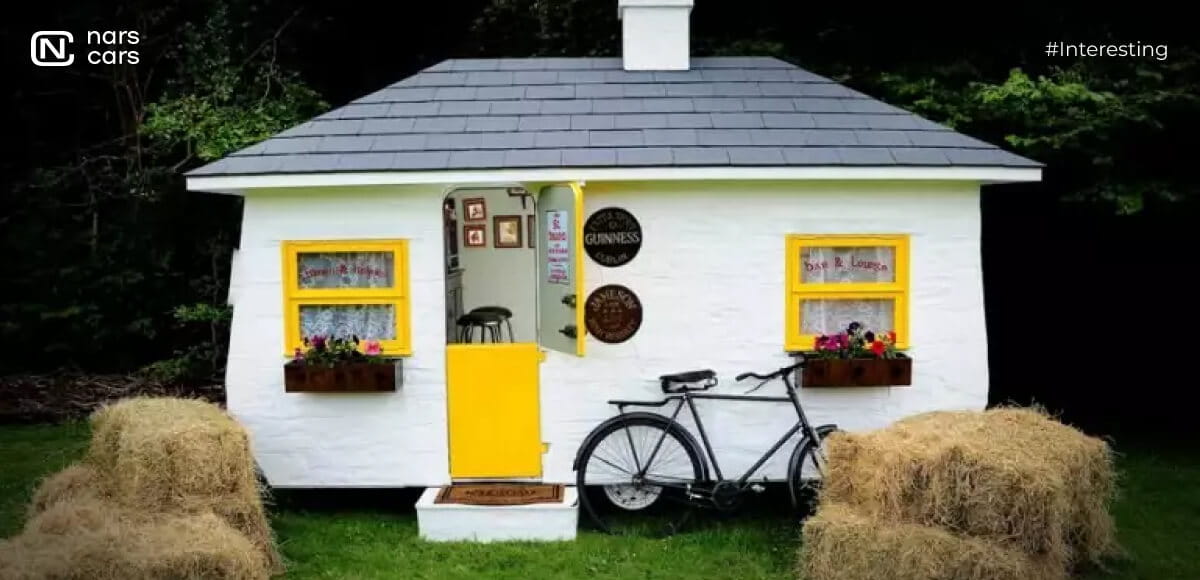 Steampunk house
Steampunk fans often combine in their clothes and decor elements of the reign of Queen Victoria and fantastic mechanisms from the works of Herbert Wells and Jules Verne. To present their inventions to the world, they go to the annual Burning Man festival. In 2006, the Californian steampunkers together with the artist Shannon O'Hara presented the Neverwas Haul mobile home at the festival. It was designed in the best traditions of the second half of the 19th century using original mechanisms and their modern analogues.
The length and height of the Neverwas Haul is 7 m, the width is 4 m. The motor home is made from a trailer on 5 wheels. The motor home looks rare, as it is 3/4 made of used materials. Now the motor home runs on a diesel engine, but to fully meet the steampunk style, it is planned to equip it with a real steam boiler in the near future.
Neverwas Haul is a three-story pile of ladders, towers, steam pipes, and loudspeakers. The Stimpant House is not used for living, but for traveling to exhibitions and fairs. Very often it is rented for weddings and festive events.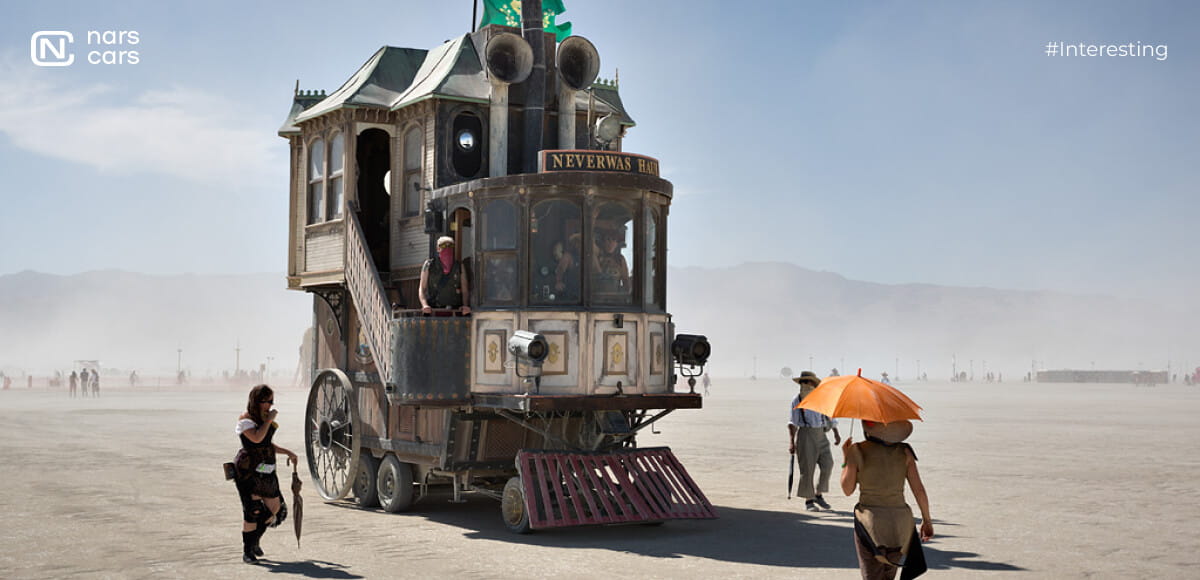 Floating trailer
A motor home that can float was designed by the German company Sealamder. Her creation plays the role of a place to rest during the land journey. As soon as you attach a small outboard electric motor to it and lower the "amphibian" into the water, it will turn into a real yacht. This is an excellent invention for lovers of fishing and active recreation on the water.
The floating house on wheels is equipped with a light waterproof body that gives a small shrinkage. Its length is 4 m, its width and height are slightly less than 2 m. The "amphibian" weighs 550 kg. There are 2 benches inside the trailer, on which up to 6 people can comfortably sit. If necessary, the benches fold out and form a large sleeping place. In addition, the house has a toilet, shower, refrigerator and other attributes for a comfortable land and water trip.
A floating trailer costs 15-20 thousand. euro. If you decide to buy it, know that it is first registered as a trailer, and then as a sports boat. Such a hybrid can be operated by persons over 16 years of age, and they need to know how to park properly not only on land, but also to moor on water.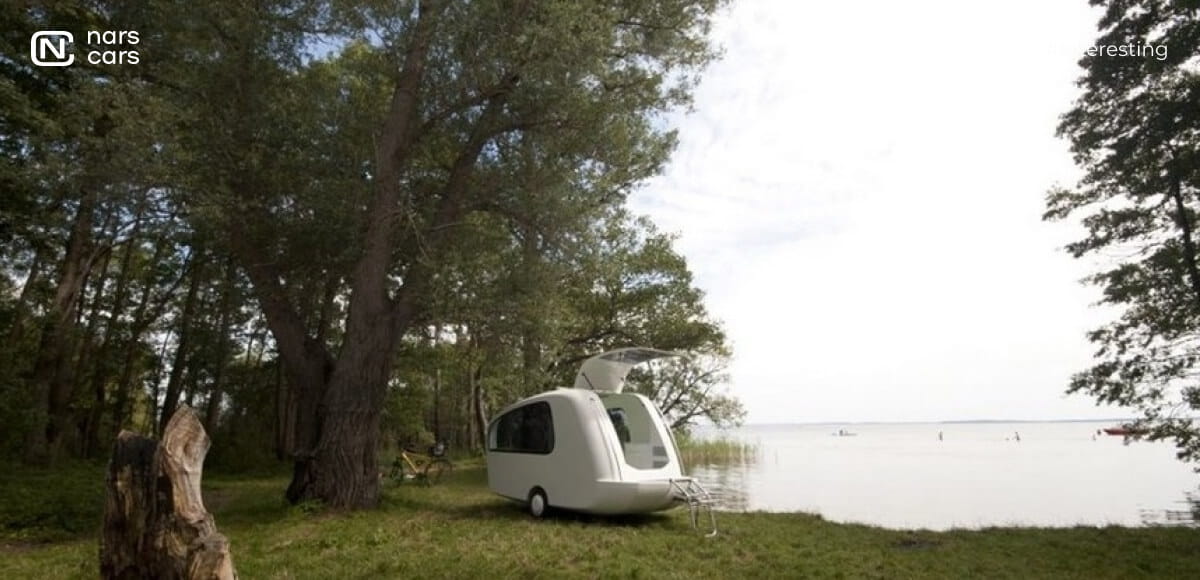 Yacht
Unlike a floating trailer, to which an additional small-sized electric motor is attached, the Terra Wind yacht on wheels is a full-fledged independent land and water transport at the same time. Outwardly, it resembles a traditional bus and can accelerate on land up to 140 km/h. She moves through the water at a speed of 13 km/h. This creation costs 1.2 million USD. Inside, it is equipped with all the attributes necessary for land and water travel. It has everything from towels to modern household appliances.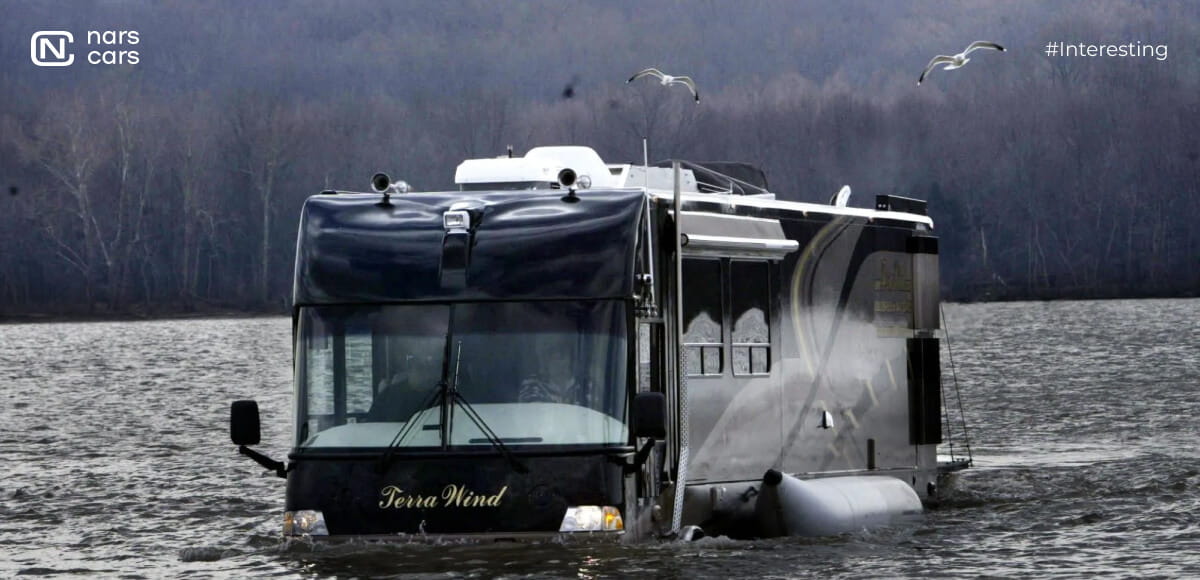 The cheapest mobile homes
Not only auto travelers need to rest and spend the night on the road. Motorhomes are also of interest to cyclists. Initially, velodomes were designed as a trailer for a bicycle, which had to be pulled all the way and used for resting in parking lots. Despite the fact that the trailer was quite light, had a small silhouette and a low center of gravity, pedaling with it was quite difficult.

To make the journey easier for a cyclist, artist Kevin Kier developed a completely new concept for a velodom, which in his performances became not a trailer, but a tricycle, reminiscent of the design of a rickshaw. The only difference is that in the rickshaw there are places for passengers in the cabin, and in the velodom this place is reserved for the living room. The design was called Camper bike. Although the house is small, its height is enough for an adult to stand upright.
The cheapest mobile home is equipped with a bed, a shelf for things and a kitchenette. If necessary, it can be connected to the mains. Its area is quite enough for one person to rest and spend the night in it.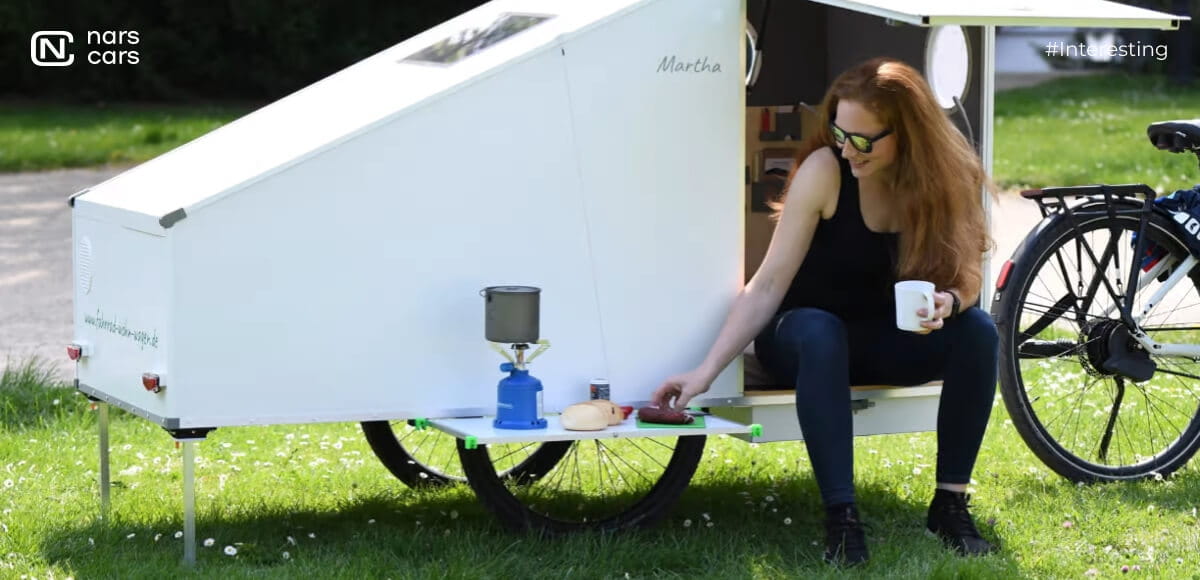 The most expensive motorhomes
The most expensive van on wheels was developed by Marchi Mobile and gave it the loud name Elemment Palazzo. The cost of this "palace" is just over 3 million USD.
When creating a motorhome, design and technological developments were used not only from the automotive industry, but from aviation and yachting. It has a sports car exhaust system and an outdoor terrace similar to those found on motor yachts. The design of the luxury mobile home is made in a minimalist modern style with classic and retro elements. The famous designer Luigi Colani worked on this project.
The weight of the most expensive mobile home is 20 tons, the height is just over 4 m, and the length is 12 m. It is made of several sections that can be separately modified. Elemment Palazzo is equipped with a 500 hp engine. and can accelerate up to 150 km/h. Improved aerodynamic characteristics of the body provide economical fuel consumption while driving. A luxury motorhome is an exclusive pleasure, since only 5 such copies roll off the assembly line per year.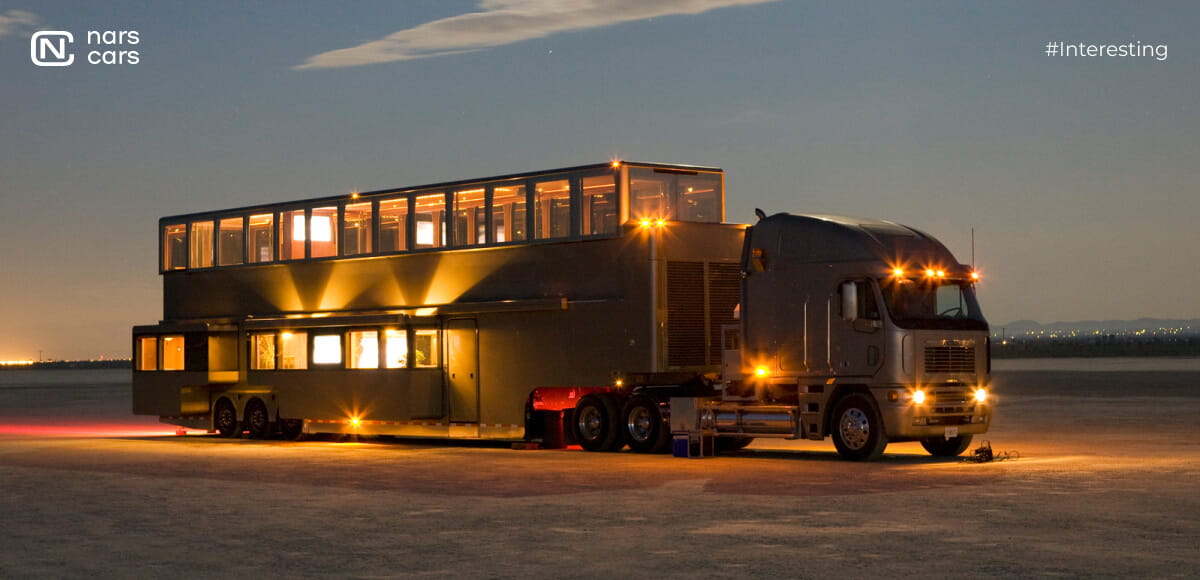 The smallest motorhomes
For the title of the smallest mobile home, 2 contenders are fighting at the same time. The first was created by designer Cornelius Comanns specifically for solo travelers. His creation was called Buflino. It has a bed, a kitchen with a stove and a sink, a workplace, a small wardrobe and a clothes dryer. Buflino is distinguished not only by its compact size, but also by its economical fuel consumption and good cross-country ability.
Another miniature mobile home has been developed by the British Air Transport Environmental Association. Their motorhome was named Qtvan. Initially, it was conceived as temporary housing for repair crews who come to the airport to fix problems. Subsequently, a small dwelling became popular among solo travelers. The cottage has a single bed, satellite TV, electric kettle, radio and bookshelf. The house is heated by central heating. It has a roomy trunk, a game console and a solar panel. The design of the motorhome is so light that it can be pulled by an electric scooter, a motorcycle, and even a bicycle. The length of the mini-house is 2 m, and its width is only 75 cm. Qtvan costs 6120 euros.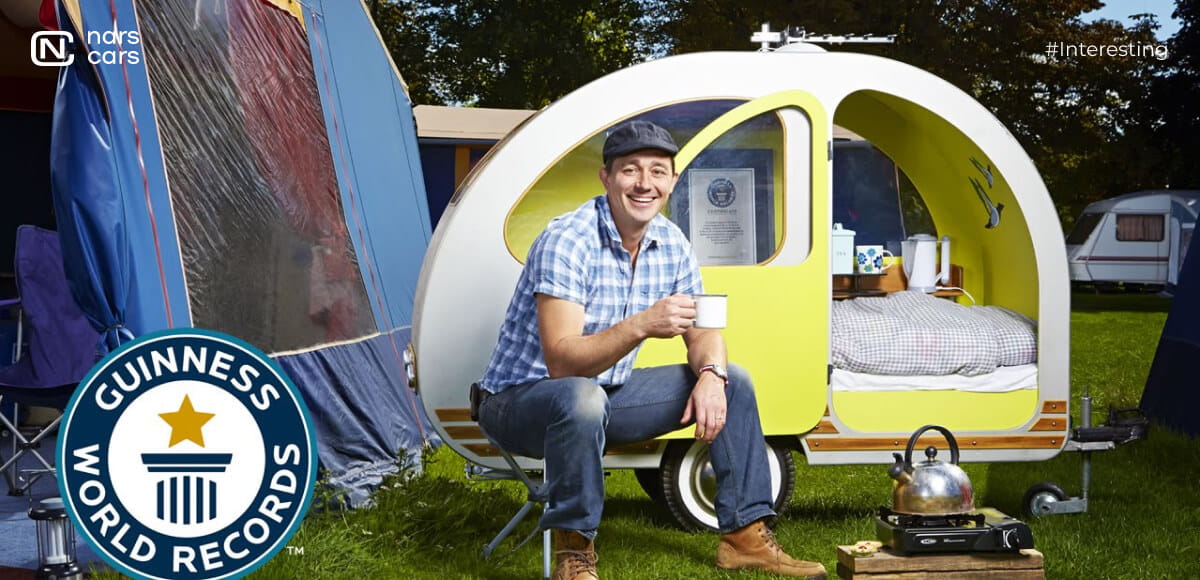 The largest motorhomes
Anderson Mobile Estates has built the world's largest mobile home. Her creation is more like not just a house, but a whole hotel, which is not inferior to the best hotels in the world in terms of luxury and comfort.
The 2-storey trailer hotel has 2 bathrooms, a kitchen and a conference room. For the comfort of the residents, it is equipped with 7 plasma TVs and the latest electronics. A family of 3-4 people can comfortably enjoy its luxurious design interior and fine furniture. Such a motor home can compete with any elite buildings in terms of convenience and beauty.
Traveling in such a two-story hotel is absolutely safe. The driver's cab has a 360° view due to the fact that a modern camera is installed on its outer side, and the driver can easily see and avoid any obstacles.
This creation of the automotive industry weighs 30 tons, and its cost exceeds 2 million USD. Its happy owner is the famous Hollywood actor Ashton Kutcher.
Another giant was created in 1993 by the Speed House Geoup of Companies. This is a huge 122 ton construction about 20 m long, 12 m wide and 12 m high. Sheikh Hamad ibn Hamdan al Nahyan ordered the largest motor home for himself. On 5 floors of his luxurious mobile mansion, there are 8 bedrooms with bathrooms, 4 garages, utility rooms and a 24 thousand liters of water supply.
This mansion with a balcony and a terrace is set in motion by a special truck. Due to the fact that the population density in the desert regions of the United Arab Emirates is low, the sheikh can safely and safely move along the roads of the country and admire its beauties without restricting movement with his 5-story van.
In his spare time from traveling, the sheikh's giant motorhome is one of the attractions of the National Automobile Museum in the UAE. In addition to it, the museum has about 400 more unique cars, which also belong to the sheikh.
will tell you interesting facts about motorhomes and introduce you to the most unusual of them. A mobile home is not just a mobile home, but a real opportunity to travel comfortably to any corner of the planet. Thanks to the development of technology in the modern market, you can find motorhomes that are not inferior to luxury mansions in terms of convenience and luxury, and compact houses for budget travel.